Mono PE/PE Laminate + 30%PCR (30% in Filmic Structure to avoid UK Packaging Tax):
With the upcoming UK Plastic Packaging Tax coming into force from 1st April, the packaging sector faces some interesting challenges; one of these sectors is Wet Wipes packaging.
The challenge with this market lies in ensuring compliance to regulatory requirements and as cosmetic regulations (EC) No 1223/2009 do not specify their product safety parameters, but instead rely on the Food Safety testing standards framework of (EC) No 10/2011 and (EC) No 1935/2004, cosmetic packaging items must meet food safety standards to be placed on the market unless they can be challenge tested for safe use.
What is our answer to this challenge?
Our highly skilled team set out to successfully develop a mono PE laminate structure containing 30% recycled content.  The material structure, as well as its PCR granules, have been independently assessed for compliance with strict requirements and compared against the virgin resin's only equivalent version. 
The final PCR content laminated structure has been rigorously tested for Overall Migration Levels (OML) at our specialist Food Compliance Testing partners at Campden BRI to food safety standards*¹, whereas the PCR granule itself has been tested for compliance to EDANA by our partners as Galab Laboratories GmbH in Germany, which includes testing of granulates against Level of Quantification (LOQ) of Alkylphenol ethoxylates, Alkylphenols, Bisphenols, Heavy metals, Organotin compounds and Phthalates.
Testing of both the virgin and recycled content mono PE laminate structures did not contain any NIAS substances which would cause concern for food safety.
The net result of our testing and development work, which meets the high safety requirements outlined under EFSA & UK Food Safety testing required by cosmetic regulations, is a mono PE structure which utilises mechanically recycled content being ready deployment within the Wet Wipe Packaging market *².
The results of the above were that there was no migratory impact was seen between a substrate made from virgin only polymers vs the equivalent structure including 30% recycled content materials.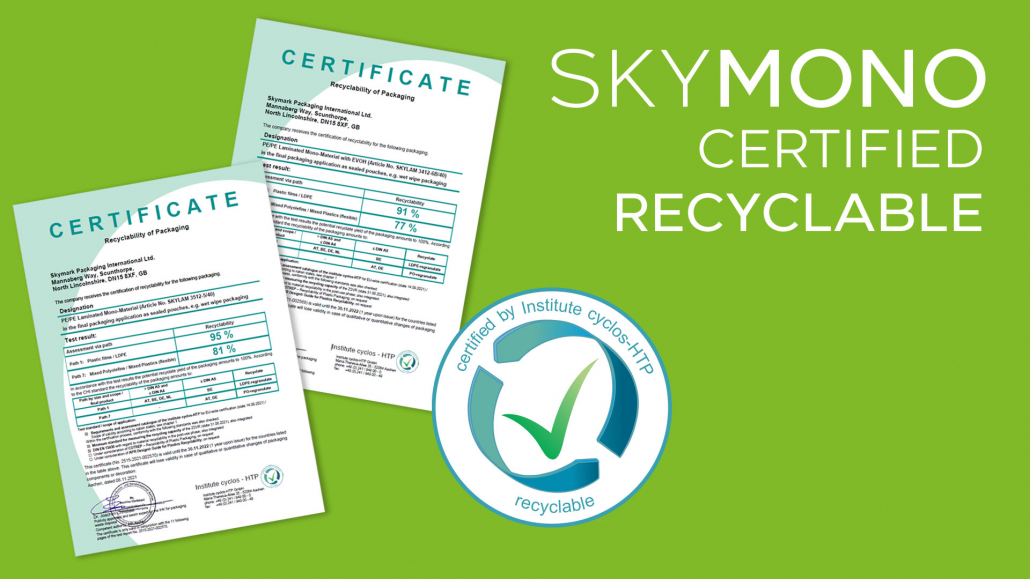 The final step for us was to ensure our recyclability claims lived up to the challenge too. Courtesy of the changes within the recent changes within the UK Competitions and Markets Authority (CMA), we decided to ensure that we could independently substantiate our claims for a recyclable mono PE laminate structure. We enlisted the help of our colleagues at Institut Cyclos HTP in Germany to test our mono PE laminate for recyclability and NIR detection within the waste streams and our product scored very high for recyclability, achieving 95% recyclability under LDPE plastic films; with no issues for LDPE NIR detection within the waste streams.
As a result of all of the above, we are pleased to announce that we can support our clients in their endeavour to not only meet the challenges of recycling Laminated packaging materials, but also offer a solution to the challenges imposed by the UK Plastic Packaging Tax.
*¹ Testing was completed using simulants, A, B and D2, covering food items from almost every spectrum. To further test the safety of the material, the D2 Simulant test was also conducted using the most aggressive test substance (95% v/v ethanol).
*² Final compliance testing will be required by the customer with regard to leach testing when the packaging is subjected to the customer's wipes and solution(s), as these may affect the substrate. We do not foresee significant issues with this test, as we believe that routine customer compliance/ approval testing should be based on the same clearance procedures.
https://www.skymark.co.uk/wp-content/uploads/2022/02/wet-wipes.jpg
627
1200
Dan Richards
https://www.skymark.co.uk/wp-content/uploads/2021/07/skymark-logo-col-300x138.png
Dan Richards
2022-02-04 17:47:01
2022-04-02 09:39:59
Wipe away the plastic tax