Climate change and sustainability are fast becoming an increasingly important debate worldwide, with packaging and the packaging industry seeming to be in particular focus.
Skymark has long taken environmental protection very seriously, both in the products it supplies and within its manufacturing processes. To enhance its sustainability credentials even further, Skymark is now promoting its capability to offer environment friendly water-based printing inks from its cooperation partner Follmann.

Skymark is an accredited recycler of PE and PP waste and provides a vast range of sustainable packaging solutions such as recyclable plastic monoweb and laminate structures and packaging films incorporating postconsumer recycled resins. Sustainable packaging solutions are not limited to the choice of packaging material. The ability to use environment friendly products is often overlooked in the choice of production materials such as ink.

Skymark therefore now offers the option of using water-based printing inks instead of solvent types for printing onto the flexible packaging the company produces. These inks are environment friendly and at the same time ensure excellent ink quality and brilliant colour.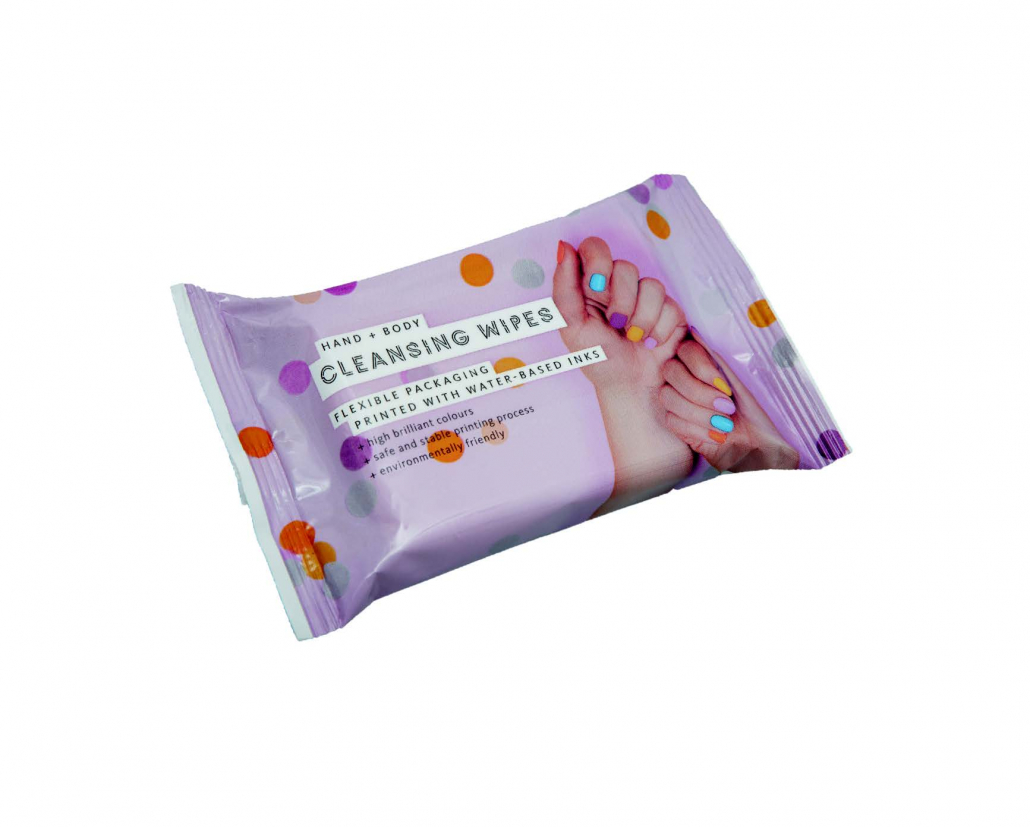 In order to convince customers of the benefits of water based inks, we incorporated them into a promotional wet wipes pack together with Follmann, the ink manufacturer. With this product example, we can show how brilliant and high-quality the environment friendly inks are.'

said Paul Neath, operations director at Skymark
However, in addition to environmental benefits, another advantage of the water-based printing inks is their high cost efficiency. The use of solvent-type inks requires exhaust air abatement due to the growing legal requirements on VOC emissions, however, such a significant investment with its accompanying high energy use cost is not required for water-based printing inks. Moreover, water as a diluent of ink viscosity and for cleaning has no negative impact on the workplace environment in the printing plant, and the exhaust air can be discharged into the environment.

In addition, there is no need for costly fire and risk measures during printing, transport and storage. The design of the ink series as a single-component solution also contributes to high cost efficiency, making the printing inks directly processable. Fast makeready times with guaranteed colour fastness underline this reduction in expenditure. The increase in plate life and a stable printing process over a long period of time are positive factors. Plates, anilox rollers, ink supply lines, etc can all now be cleaned with water, also contributing to a more pleasant working environment in addition to other clean air benefits.

'We are very pleased that Skymark, the UK's leading independent manufacturer of high-quality flexible packaging materials has recognised these benefits and has taken the first step in developing its use of environment benefitting water based inks, and are confident that their customers will also recognise and utilise the advantages they offer,'

said Oliver Steinitz, head of sales printing inks at Follmann
Follmann is a family-owned company just 42 years in existence and operating in the international chemicals industry. The Follmann product range comprises a range of water-based printing inks for flexible packaging and tableware products, and low migration adhesives for the packaging industry, decorative coatings for the wallpaper and décor industries, high-performance adhesives for the wood and furniture industries, along with functional coatings and microcapsules for a wide range of other industries. Renowned for its innovative products and customised solutions, Follmann has long been recognised as a provider for speciality chemicals in Europe.
https://www.skymark.co.uk/wp-content/uploads/2021/07/Skymark-Follman-scaled.jpg
1272
2560
Dan Richards
https://www.skymark.co.uk/wp-content/uploads/2021/07/skymark-logo-col-300x138.png
Dan Richards
2021-07-23 21:21:57
2021-11-26 13:58:50
Eco-boost